Our wonderful range of wool felting mats are hand made in Nepal. When you purchase an eco-friendly mat, not only are you buying a beautiful, organic product - you are also helping to support a small family-run business in one of the poorest countries of the world.
Large MINT Eco-friendly Felting Mat - 23 x 23 x 4cm approx
Medium MINT Eco-friendly Felting Mat - 14 x 14 x 4cm approx
Small MINT Eco-friendly Felting Mat - 14 x 7 x 4cm approx
When felting flat pieces of wool directly onto your felting mat, we recommend using a piece of felt fabric on top, to prevent your work sticking to the mat. 
Please note:
These lovely mats are a handmade using all natural, ethically sourced materials. They are not perfect in size, shape or colour - all the more reason to love them, we think! 
Customer Reviews
19/04/2022
KarenThorpe-Kingsley

United Kingdom
Best Needle Felting Mat EVER! Yes, Ever!
Bought two of these felting mats just over a month ago, what a game changer! I wish I'd discovered these years ago, more comfortable to hold , felting process seems to work better and quicker than with foam, no breakdown and so much quieter. Well worth the money and super fast delivery. Highly recommended, thank you crafty kit company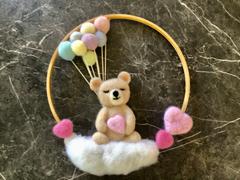 20/04/2022
The Crafty Kit Company
Wonderful to read Karen, thank you :)